2DR Dirty water pto pump
Model 2DR Peak performance, priming and application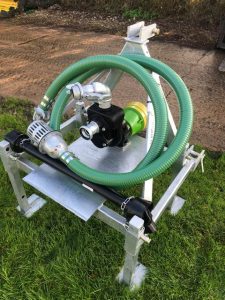 2″ gearbox mounted
Automatic self priming
Purging & snoring
PTO driven
Centrifugal pump
Performance
These units deliver big pump performance. The 2DR will deliver up to 6000 gallons per hour (27 cubic meters per hour)
Priming
The 2DR exclusive self priming principle ensures quick, dependable automatic priming down to a maximum of 5m with as little as one-third level in pump body.
Application
The 2DR model is designed for use where clean or dirty liquids have to be handled and where dependability is essential. Wide usage has been made of this pump for many years in both agriculture and industry. The unshrouded impeller permits to increase the resistance to the impurities contained in the fluid to be transferred during the pumping phase.
Heavy Cast Wall Sections
Thick, heavy wall sections stand up to any pressures encountered in the field for long service under hard usage on tough jobs.
Special Non Clogging Impeller
Solids that clear the strainer are easily handled by non clogging, parallel vane impeller. Improved design provides better efficiency, maximum water delivery and complete dependability.
Seals and Gaskets
Shaft seals are of the dripless self-lubricating type and, as are all gaskets, made from petroleum resistant materials. Stainless steel shafts and seals are available for agricultural fertilisers.
Automatic Suction Valve
Opens full suction width when pump is operating. Maintains tight closure when pump is inoperative, retaining priming water in pump.
Gearbox
The gearbox fitted is a heavy duty model, designed for 540 rpm maximum input speed.
| Max Capacity | Max Head | Gearbox | Connections | Mounting |
| --- | --- | --- | --- | --- |
| 6,000 GPH | 28m | 540 rpm | 2″ BSP Male | 3 PT Linkage |