Dribble Bars and Injectors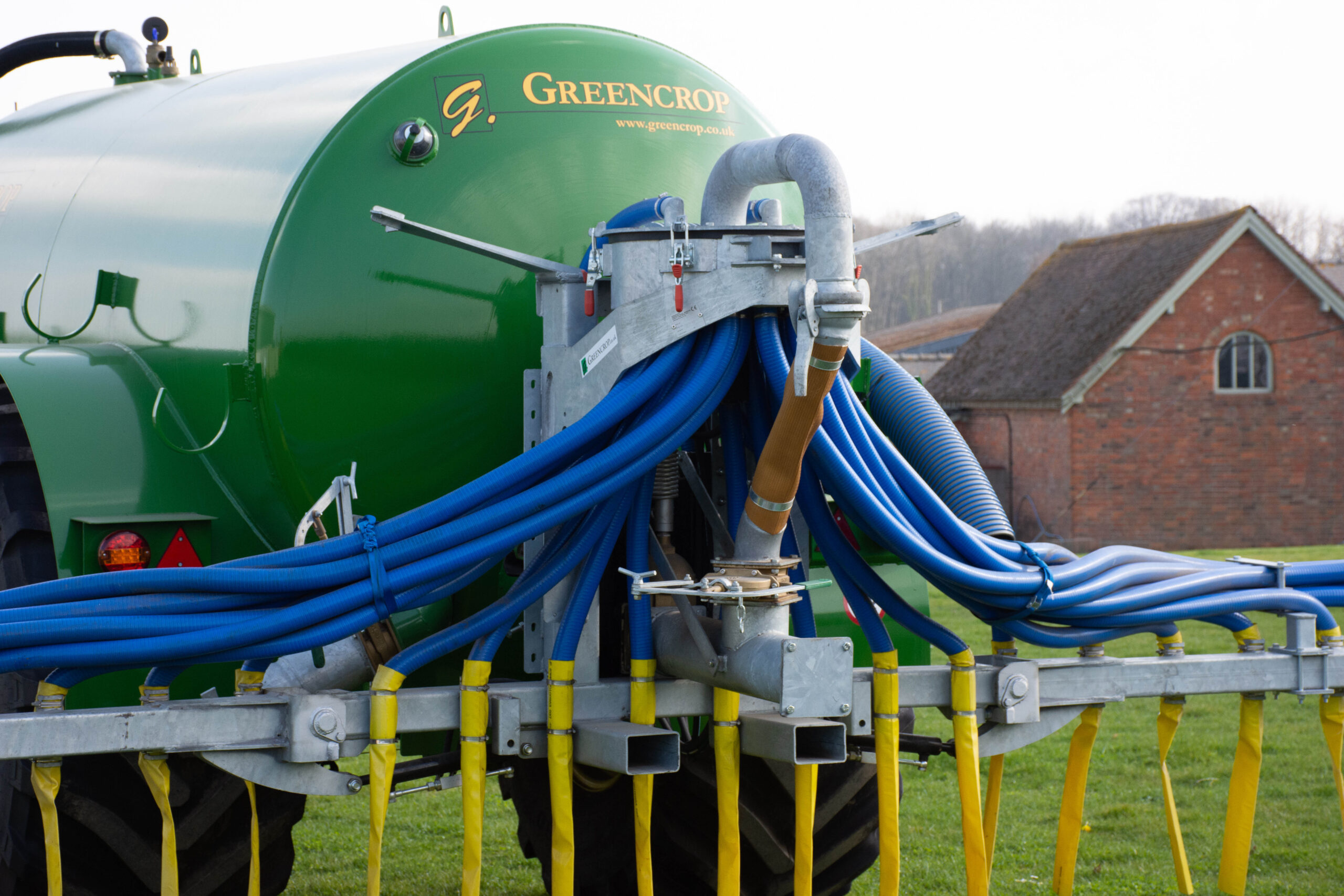 Dribble Bars
Greencrop dribble bars are fully galvanised, have vertical folding wings, are fitted with TSG self-sharpening distributors, 50mm outlets, Bauer inlet c/w support cage, flow meter ready, 7m and above have boom end brake backs as standard, other widths of dribble bars on request. All tanker DBs have 1 macerator, 9m and above umbilical have 2 macerators. Machines between 6m and 12m available. 6m 7m 7.5m 9m tanker DB are quick fit on rear door.
Greencrop can supply a great budget range of dribble bars up to 9m spreading width able to mount on existing vacuum tankers from the rear door without having to weld on any mounting brackets etc, with the ability to still use the splash plate if needed.
We supply a new galvanized rear door which has the mounting brackets welded to it. Mount the existing gate vale to this door, then with the forklift lifting points mounted on the machine offer the DB up to the back door and bolt on at the correct height.
The machines are very close coupled to the tanker, thus preventing weight being too far back from the tanker. The machines are fitted with lights and the 7m wide and upward machines have boom brake backs, for added boom protection.
The units are fitted with an easy access single horizontal macerator which is self-sharpening and reversable. 50mm outlets and pipes (less blockage) at 250mm spacings. A manual gate valve before the inlet to the macerator, controls the flow rate you require.
Our range of dribble bars start at 6m up to 12m with single macerator on tanker models, with twin macerators on umbilical machines from 9m plus. However, we can make a range of dribble bars that can mount onto a tanker, which also can be removed and used as an umbilical machine.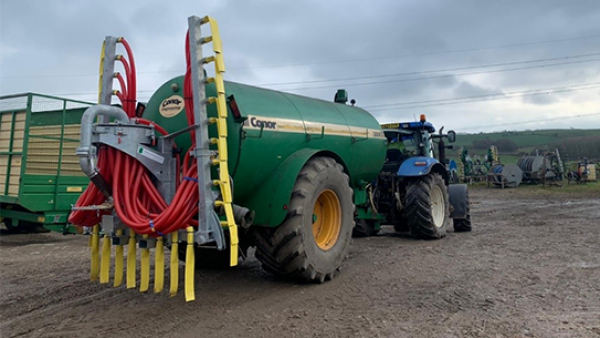 7m tanker mounted dribble bar
9m umbilical with road lights and rear jetter nozzle extra.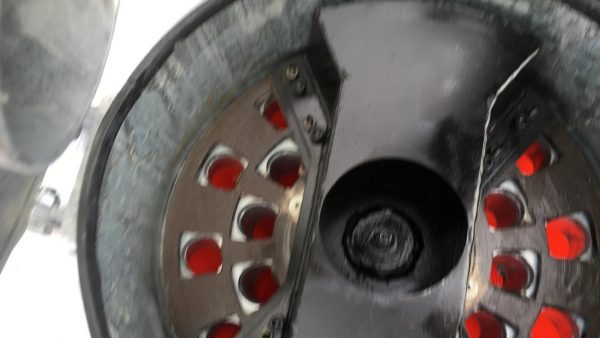 Looking down inside the horizontal masorator, self-sharpening and reversible.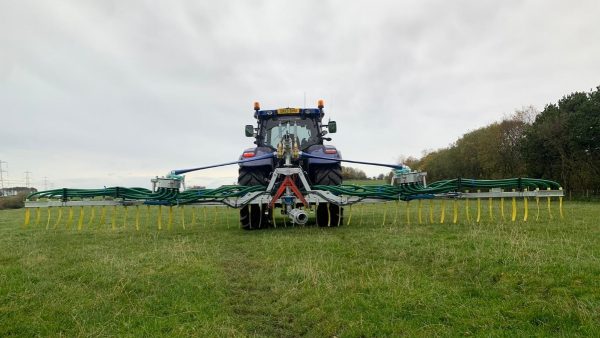 Twin macerators on 9m plus machines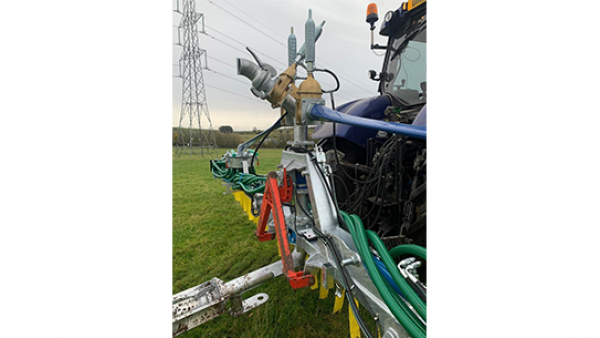 Optional spreader jet nozzle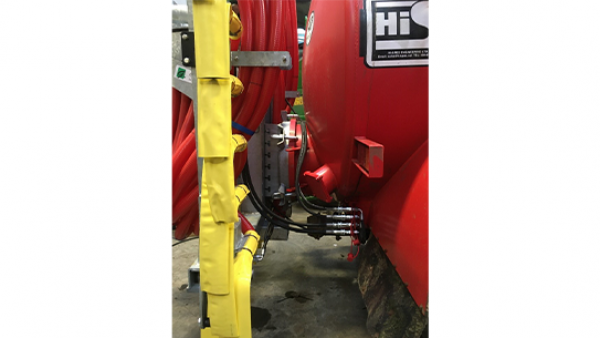 Close coupled to back of tanker so less strain on the back door.
Trailing Shoe
Greencrop trailing shoes are fully galvanised, blue tipped shoes, robust rubber boot, 3pt linkage. The trailing shoes are fitted with TSG self-sharpening distributors with 50mm outlets. 225mm spacings.
All trailing shoes have 1 distributor apart from the 12m tanker machine which has 2 x vertical units.
Machines start at 6m up to 12m tanker mounted. We have 2 ranges with either vertical folding, or rear folding apart from 12m tanker machine which folds down the side of the tanker.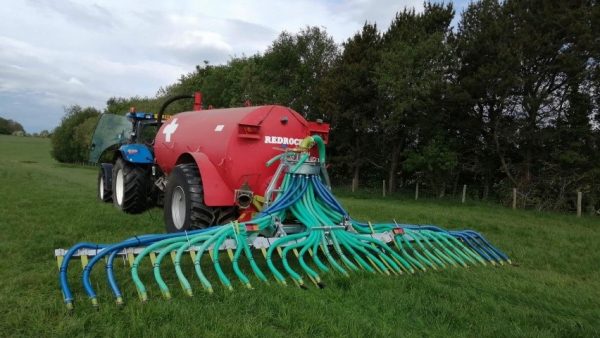 7m trailing shoe rear folding.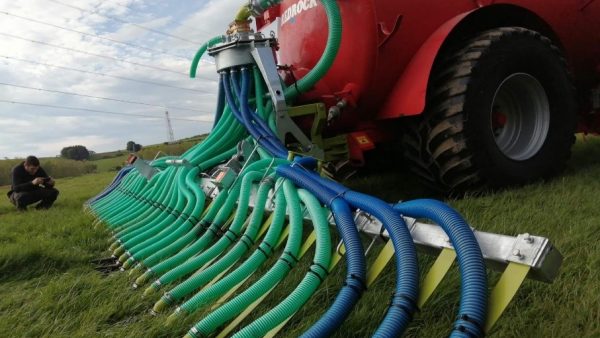 7m trailing shoe rear folding.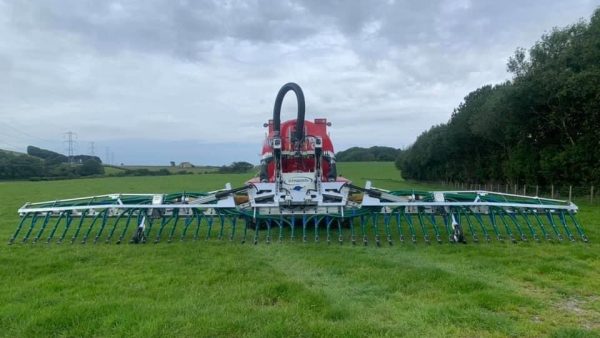 12m tanker mounted Stingray trailing shoe.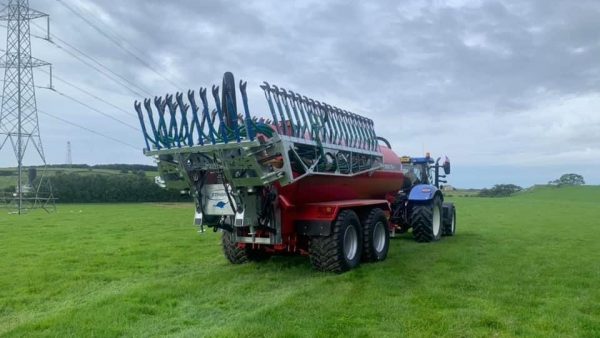 12m tanker mounted Stingray trailing shoe.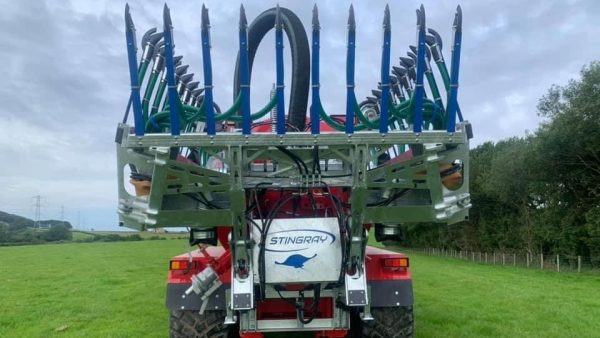 12m tanker mounted Stingray trailing shoe.