Veneroni LE Range
The LE pump has various motorisations available according to the required characteristics of the use.
Thanks to the effective performance even when modest power is applied, the LE pump is a valid instrument for automatic re-circulation plants, streaming, transfer, loading of separators, where reliability is called for because of the frequent use also in the presence of solid and fibrous bodies.
The LE pump is equipped with a mixing nozzle, which homogenises the sewage, eliminating all types of sedimentation before pumping.
The LE pump is supplied standard heat-galvanised; on request, the version in stainless steel is also available.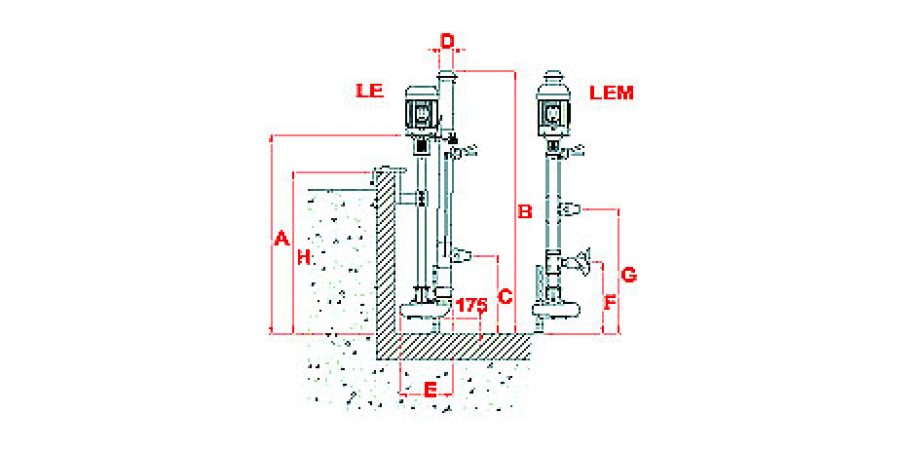 Controls for rotation and operation of mixing spout; hydraulic actuators on request.
The LE pumps are available, on request, with trailer for manual transport or with tractor.
"M" version with a mixing impeller driven by the main transmission shaft.
Dimensions: LE – LEM
Model
D mm
A mm
B mm
C mm
E mm
F mm
G mm
H mm
10/4/
10/5,5/
2
2105
2600
810
1.3 – 1.8
2.5
2605
3100
810
1.8 – 2.3
3
3105
3600
960
2.3 – 2.8
3.5
120
3605
4100
1110
440
710
1310
2.8 – 3.3
4
4106
4600
1260
3.3 – 3.8
4.5
4605
5100
1410
3.8 – 4.3
5
5105
5600
1560
4.3 – 4.8
12/7,5/
12/9,2/
12/11/
12/15/
2
2200
2910
870
1.3 – 1.8
2.5
2700
3410
870
1.8 – 2.3
3
3200
3910
1020
2.3 – 2.8
3.5
120
3700
4410
1170
510
770
1370
2.8 – 3.3
4
4200
4910
1320
3.3 – 3.8
4.5
4700
5410
1470
3.8 – 4.3
5
5200
5910
1620
4.3 – 4.8
15/18,5/
15/22/
15/30/
2
2220
3035
870
1.3 – 1.8
2.5
2720
3535
860
1.8 – 2.3
3
3220
4035
1020
2.3 – 2.8
3.5
150
3720
4535
1170
580
790
1390
2.8 – 3.3
4
4220
5035
1320
3.3 – 3.8
4.5
4720
5535
1470
3.8 – 4.3
5
5220
6035
1620
4.3 – 4.8
Features: LT – LTM

| Model | Rate of Flow | | | | | | | | | Electric Motor | |
| --- | --- | --- | --- | --- | --- | --- | --- | --- | --- | --- | --- |
| | Q (l/s) | 10 | 25 | 40 | 55 | 70 | 85 | 100 | 115 | Rated power of motor | rpm |
| | Q (l/min) | 600 | 1500 | 2400 | 3300 | 4200 | 5100 | 6000 | 6900 | | |
| | Q (mc/h) | 36 | 90 | 144 | 198 | 252 | 306 | 360 | 414 | | |
| 10/4 | P (kW) | 2.9 | 3.2 | | | | | | | 7.5 | 1450 |
| | H (m) | 9 | 7 | | | | | | | | |
| 10/5,5 | P (kW) | 5.5 | 5.6 | 6 | 6.5 | | | | | 7.5 | 1450 |
| | H (m) | 11 | 10 | 8 | 6 | | | | | | |
| LE 12/7,5 | P (kW) | 5.5 | 5.6 | 6 | 6.5 | | | | | 7.5 | 1450 |
| | H (m) | 11 | 10 | 8 | 6 | | | | | | |
| LE 12/9,2 | P (kW) | 6.5 | 6.7 | 7 | 7.5 | | | | | 7.5 | 1450 |
| | H (m) | 12 | 11 | 9 | 7 | | | | | | |
| LE 12/11 | P (kW) | 6.5 | 6.7 | 7 | 7.5 | | | | | 9.2 | 1450 |
| | H (m) | 15 | 13 | 11 | 9 | 9.8 | | | | | |
| LE 12/15 | p (kW) | 11 | 11.2 | 11.4 | 11.8 | 12.6 | 13.4 | | | 15 | 1450 |
| | H (m) | 20 | 18 | 16 | 13 | 10 | 7 | | | | |
| LE 15/18,5 | P (kW) | 14.6 | 14.7 | 14.8 | 14.8 | 14.9 | 15.7 | | | 18.5 | 1450 |
| | H (m) | 19 | 18 | 16 | 14 | 13 | 10 | | | | |
| 15/22 | P (kW) | 16.3 | 16.6 | 16.7 | 16.7 | 17 | 17.8 | 19.2 | | 22 | 1450 |
| | H (m) | 20 | 19 | 18 | 16 | 14 | 12 | 10 | | | |
| LE 15/30 | P (kW) | 21.6 | 21.8 | 22 | 22.3 | 22.8 | 23.6 | 25 | 26.4 | 30 | 1450 |
| | H (m) | 25 | 24 | 23 | 21 | 19 | 17 | 15 | 13 | | |
Download the Veneroni Raw Fluid Motion Catalogue here: