Greencrop Irrigation Pumps
17 May 2021 News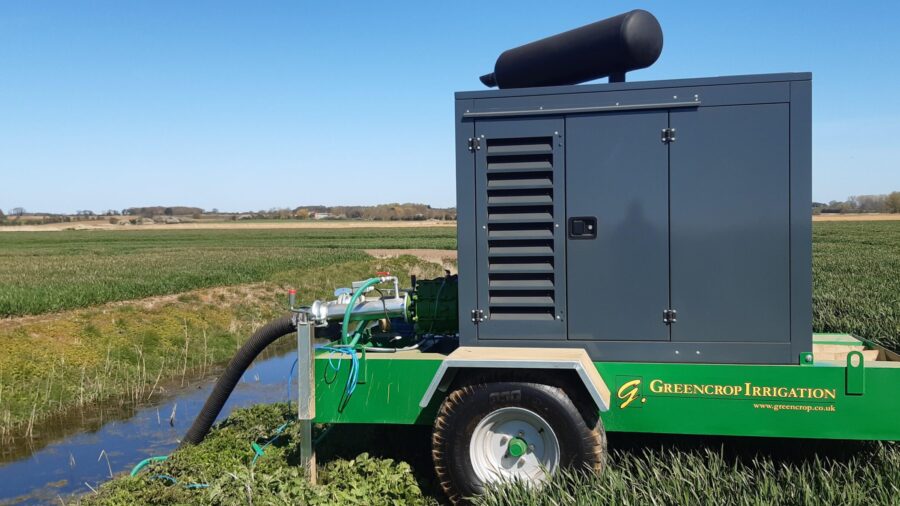 Greencrop offer a wide range of engine-driven irrigation pump sets from a basic to the very high spec with GSM control and super-fast priming.
Our standard range starts with our model GCEP51WIR unit, powered by a water-cooled Perkins 404D22 (Tier 3A) 51hp 4-cylinder engine, coupled to a Rovatti F43K80-90/3E pump. This pumping unit is ideal for running a drip or tape irrigation system or supply one hose reel irrigator.
Our next model is the GCEP75WIR unit, powered by a water-cooled Iveco F32MNSX00.00 (Tier 3A) 75hp 4-cylinder engine direct coupled to a Caprari MEC-MR 65-2/4A 1 centrifugal multiple-stage pump with horizontal shaft.
Our GCEP100WIR pump unit is powered by an Iveco NEFN45MSSX00.50 (Tier 3A)100HP 4- cylinders water-cooled engine, connected to a Caprari MEC MG80 4/3A pump.
All the above three models are supplied as standard with an Elcos CEM 250 control & protection panel. manual priming pump, delivery butterfly valve, engine protection roof canopy, special bunded chassis tank with an internal capacity 700 litres, lockable fuel cap, supplied on 11.5/80 wheels with mudguards, flow switch and DN80 non-return valve.
As options, we can offer an acoustic canopy, electric primer, Elcos CIM137 GSM control panel with optional mobile App control.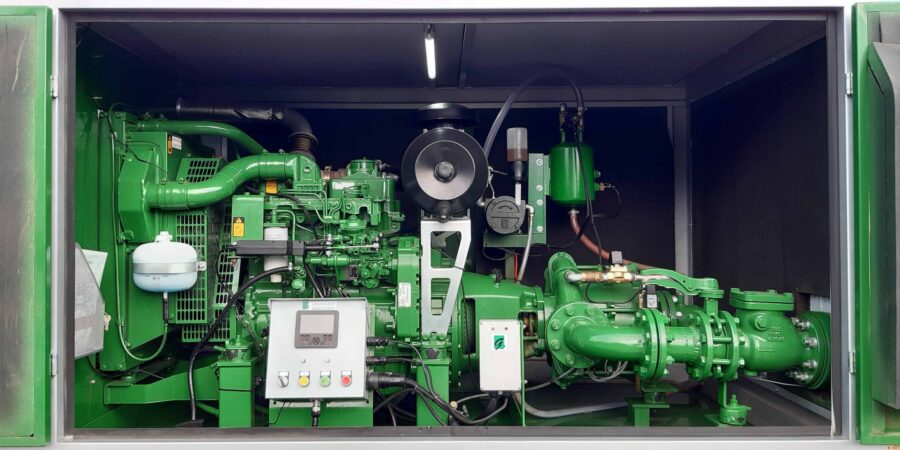 Our top of the range pump sets are manufactured in the UK at Littleport in Cambridgeshire. There are two models, the GCEP125W or the GCEP170W.
These two high specification models are fitted with an Iveco N45MNT 4-cylinder 125hp turbo engine, coupled to a Caprari MG80-4/3 pump. Or the Iveco N57 170hp 6 – cylinder turbocharged engine, coupled to a Caprari MG100-2AHD pump. Both these units have proved to give good engine torque and excellent fuel efficiency.
The pump sets are fitted with a superior quiet acoustic cabinet, rated at 72db at 1 metre. For convenient access to the engine pump compartment, we fit two doors on both sides of the unit, with no centre support struts. There is also a separate front storage compartment which also contains the exhaust manifold, this helps to keep the engine cool without having to open the doors, even on the hottest summer's day. The engine and pump are painted to give a final quality finish. The unit is fitted with a high-speed vacuum primer from the pressure side of the pump, giving ultimate high-speed priming.
These two pumps are fitted with the latest GSM control panels, with push-button engine start and semi auto-electric prime. A pulse-type water meter is also standard, giving accurate no-flow and high flow shut down, linked to the Greencrop engine protection panel, with water level, temperature, oil pressure sensors and anytime changeable hour run timer, also soft start and shut down control, mobile phone operated auto prime start/stop with auto line fill pressure system. Or monitor irrigation in real-time, either by using mobile phone SMS messaging or with a web browser.
For more information contact:
Howard Chantry

UK Sales Manager