New Greencrop Pump Sets for drip irrigation
22 April 2019 News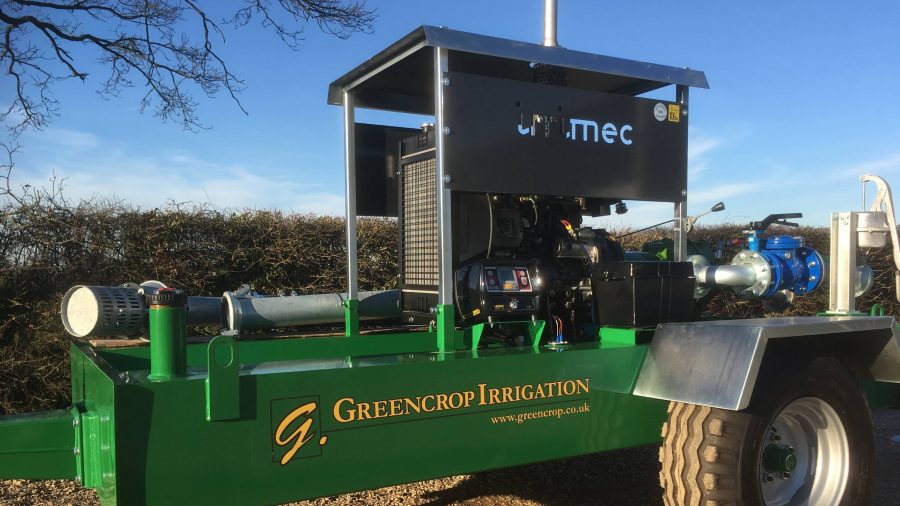 Greencrop have introduced a new range of budget irrigation pump sets, including economy diesel engines and irrigation pumps to drive a single hose reel irrigator for rain gun or boom. These pumps are ideal for drip or tape irrigation, where existing pump sets are over capacity for these applications.
We offer two models, the GCEP51WIR and GCEP75WIR, with bunded tanks and control panels as standard.
The GCEP51WIR unit is powered by a water cooled Perkins 404D22 (TIER 111) 51hp 4 cylinder with a Rovatti F43K80-90/3E pump, which is ideal for running drip or tape irrigation but still with the ability to run one irrigator.
The GCEP75WIR unit is powered by a water cooled Iveco F32MNSX00.00 (TIER 111A) 75hp 4 cylinder engine direct coupled to a Caprari MEC-MR 65-2/4A 1 – centrifugal multiple-stage pump with horizontal shaft (Q: 64.67 m³/h H: 109 m).
As standard, both have the following specification:
Control box model Elcos CEM250 (standard control & protection)
Flow switch
Manual priming pump
Delivery butterfly valve
Roof to protect the engine from rain
Special bunded chassis – internal capacity 800 litres
Lockable fuel cap
Wheels 11.5/80 with mudguards
Options:
Suction and delivery fittings
Electric primer
Acoustic lockable engine cabinet. 73db @ 7m
GSM control with auto primer
For further information, please contact Howard
Howard Chantry

UK Sales Manager