The importance of irrigation!
10 May 2020 News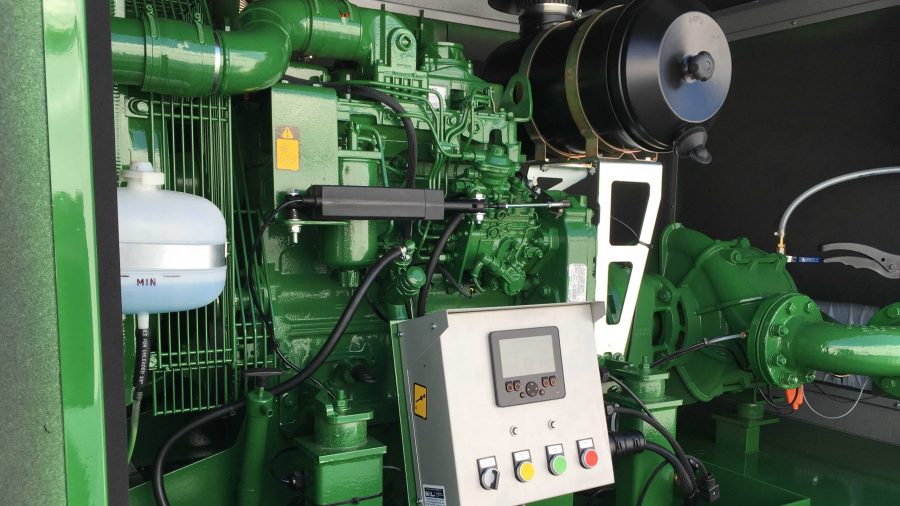 This growing season should remind us all how important irrigation is and to have reliable and efficient equipment. (Irrigation NOT Irritation)
Studying ways to use water more efficiently has led Greencrop irrigation to develop a new range of control systems for their engine pump sets.
The changes we have introduced are:
A digital electronic protection and pulse flow control to monitor; low, no flow and high flow shut down, if a pipe bursts – saving wasting water. The GSM panel as well as text starting and stopping, will give information on m3hr used per run. Automated soft line fill feature is also available.
The target pressure can be adjusted between 2.5BAR and 6 BAR in 0.5BAR increments.
On start-up, the engine revs up to approx. 1500 RPM to help lift non-return valve then idle back once satisfactory flow rate is achieved for line fill.
If panel shutdowns on fault; all previous setting are retained when panel is recycled.
In the event of pump shut down; the operator can attempt to restart without having to return to panel 3 times before locking out and reset is required.
Any engine shutdowns will result in lock out and operator will need to return to pump to power cycle and clear fault.
We also introduced our new super-fast electric pressure side vacuum primer.
The Iveco 4-cylinder 125hp turbo engine unit has proved to be a very good choice with good engine torque and fuel efficiency.
The pump sets have the complete fully covered acoustic cabinet which has been officially sound tested to a decibel reading of 72db at 1 metre, the side doors open to gain total non-interference of the engine and pump, plus a front storage compartment. We have always painted the engine and pump to give a final high-quality finish.
Greencrop is the UK importer of Irrimec Hose Reel Irrigators and has offered the Elite range since its launch in 2016. Their latest products are designed with the professional grower in mind; reliable and easy-to-operate irrigation systems that require simple maintenance.
The Elite 730 and 735 series offer hose diameters from 100mm to 140mm and hose length options up to 580m long. The newest range, the Elite 800 series is also now available and has hose lengths up to 800m.
For further information email enquiries@greencrop.co.uk