The launch of the Irrimec Elite 800 series
28 April 2019 News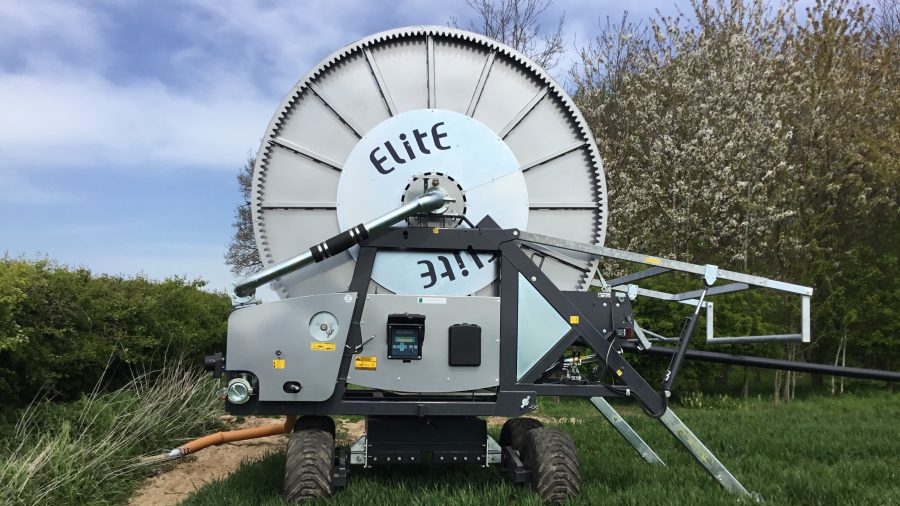 Greencrop have had a successful time with the Elite irrigator range from Irrimec. This season sees the launch of the 800 series machines, designed with the professional grower in mind, which start at 110mm x 600m up to 120mm x 700m.
The attention to detail starts with each machine being steel shot blasted, painted in epoxy anti-corrosive primer, with a final coat of oven baked polyurethane paint for a superb long lasting finish. Trolleys are hot galvanized and the lifting frame is operated by hydraulic rams for lifting and lowering the trolley.
The drum is driven from both sides with a cut gear ring positioned on the outer diameter of the drum. Unlike a chain drive, the hose drum is driven by a low-torque gear drive, which is positive and low wearing.
The new Dosicontrol Pro computer has built in GSM with the ability to record hours worked and water used among other diagnostics.
The chassis' are constructed of large steel frames using a 5mm thick box section. The 800 series are built around a tandem axle design with large flotation wheels. Hydraulic legs are 50% larger with built-in internal rams for improved weather resistance and are designed to exert a central push against the drum for added stability. It is supplied with a full hydraulic system with the control levers now mounted on its own adjustable stand at the front of the machine.
The hose guide has not one but four metal bearing rollers guiding the hose onto the drum. Self-pivoting gun trolleys have been made 50% stronger.
Longer hose versions will be available later.
For further information, please contact Howard
Howard Chantry

UK Sales Manager